Measurably reduce comprehension errors
Measurably reduce performance errors
Measurably increase safety.
What does a UXQCC Document Certificate guarantee?
UXQCC Document Certificate states that the documents examined by a certified UsabilityMapping partner of the UXQCC authorities are UsabilityMapping® compliant.
Usability Mapping® is a document engineering methodology. It uses measurable specifications of human cognition and behaviour to measurably:
reduce the risk of comprehension errors
reduce the risk of performance errors
increase safety.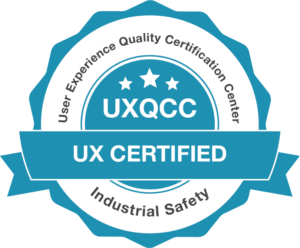 What industries are potential candidates for Usability Mapping®?
Potential candidates are all people who are involved with industry activities that carry a risk of property damage or personal harm. This can be anything from
manufacturing pharmaceuticals
performing surgery
aerospace activities
oil/gas and mining
and many more.
If human performance is guided by procedures and standards, and there is a risk, usability engineering is a must. Usability Mapping is the methodology you must learn and have it validated with a UXQCC Certification.
What documents will be accepted for certification?
Only selected enabling documents are accepted.
User documents for UXQCC certification typically are
Policies and standards
Processes and procedures
Guidelines and user manuals
Risk ranked documentation that measurably increases safety reduces insurance claims!
Who can apply for a UXQCC Document Certificate?
Only applicants who are Usability Mapping® certified document engineers are qualified to submit documents. Technical writing and/or document design training is not enough to qualify to become a UsabilityMapping document engineer.
There are several ways to acquire the necessary skill set. Learn to apply UsabilityMapping at a qualified educational institution in Canada, USA, Europe, Australia or Africa or Online.
See personal certifications
Usability Mapping Foundation Level.
Certifies completion of 16 hours instructor led training.
Usability Mapping Masters Certificate
It certifies that the incumbent has completed the Foundation level course, plus 32 hours of hand=on coaching.
The Masters Certificate is a prerequisite to become a certified Usability Mapping service provider.
What behavioural criteria will UXQCC audit for.
UXQCC exclusively audits for cognitive and behavioural criteria. These are summarized on the respective audit sheet. UXQCC will not audit for, or make recommendations on, design or related artistic criteria.
The UXQCC audit sheet was built for qualified Usability Mapping document engineers only. If you feel qualified, download it here.
The audit sheet does enable self-learning and is not selfexplanatory.
Who is Usability Mapping® for?
If safety is your priority, then you must care. UX Engineering documents and Industrial Safety cannot be separated, and the science of safety works.
This is an important message to:
Liability Insurers
Regulators
Legal Consultants
Health & Safety Professionals
What The Program Costs And Steps in The Workflow

We accepted your submission for the full audit. We only accept submissions if pre-assessment shows that the document can pass the audit.

The UXQCC report identifies critical issues based on the UsabilityMapping audit sheet. Qualified UsabilityMapping engineers are able to make the necessary adjustments to make the submission compliant

You get the UXQCC Audit Report to make your user document fully UX compliant

UXQCC issues the document Certificate.

Get your certification and show the world your achievements.
EUR 0:30 per word.
Cost examples:
5000-word User Manual EUR 1500.00
1500-word surgical procedure: EUR 500
You will be also promoted by UXQCC

Cost Examples of selected certified documents
Here is a quick comparison of selected certified documents.
9 Life Saving Rules
Total 2155 words
Pre Cert: € 30:00
Audit: € 718.00
Certificate € 300.00
Sub Total € 1048.00
Minus € 30.00
Final cost € 1018.00
This project was completed in five days. All source documents were available and review time were minimal.
47 Safe Work Practices
Total 32515 words
Pre Cert: € 30:00
Audit: € 10,851.66
Certificate € 300.00
Sub Total € 11181.00
Minus € 30.00
Final cost € 11,151.00
This project ran over seven months. Hold-ups occurred as some source materials were not ready in time.
812 SOP Procedures
72300 words
Pre Cert: € 30:00
Audit: € 24100.00
Certificate € 300.00
Sub Total € 24430.00
Minus € 30.00
Final cost € 24,400.00
This project ran over fourteen months. Hold-ups occurred as some source materials were not ready in time
Apply for a document certification

We prefer submissions from individuals who have earned the Usability Mapping Foundation Certificate. Otherwise we can't guarantee to approve the application.
Application costs are for the organisation effort and won't be recovered.
Book your training with a global training provider
If you cannot find a local training provider near you – get in touch.
Our global trainer elite can cover areas without local training providers.